The Gleacher Center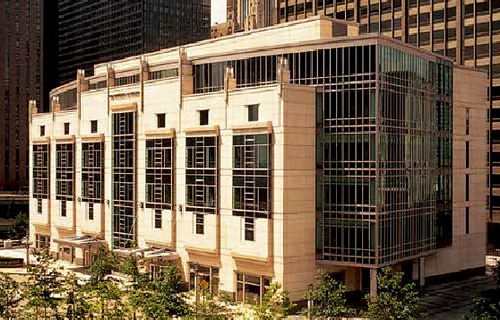 This year's RE conference will be held at the Gleacher Center in downtown Chicago:
450 North Cityfront Plaza Drive
Chicago, Illinois 60611
From
their webpage
:
The Gleacher Center houses the part-time MBA programs of Chicago Booth, was designed as a world-class facility for learning and intellectual dialogue. Also built to provide a downtown hub for alumni, special consideration was given to making it a sophisticated venue for conferences and meetings.
The work of internationally known architect Dirk Lohan, grandson of Mies van der Rohe, the striking and expansive stone and glass structure rises six stories above the Chicago River. In a nod to the Chicago School of architecture, light plays an important role in the building's look and feel. The five-story atrium inside, as well as the glass-enclosed lounges on the ends of each floor that extend out from the building, provide an open and airy feeling. The lounges also visually connect Gleacher Center to the river and the city. Other projects in Chicago by Lohan include the Blue Cross Blue Shield Building and the remodeled Soldier Field.
Conveniently located less than 45 minutes from Chicago's O'Hare Airport (even closer to Midway Airport), Numerous hotels are close to Gleacher Center.
For more information, click here.