Navigating Chicago

Jump to: Transportation * Sightseeing * Museums * Entertainment * Food * Local Attractions


Map of Conference Locations and Hotels
---
Transportation
---
Chicago Transit Authority (CTA)
The
CTA (also called the 'L')
is the rapid transit system that runs through Chicago. Trains run in a loop around the central downtown area, and then radiate away from the city. Though the CTA website has a Trip Planner, the easiest way to plan a trip with the CTA is to use the "by public transportation" option on
google maps
. A wise word on buying tickets: the cash machines don't dispense change, so bring exact cash. Unless you plan on using the CTA every day, stick to buying (and reloading) single-fare cards.
Directions from Airport
The CTA is the best way to get to the City from both O'Hare and Midway. Expect to buy a farecard in the terminal for $2.25. From O'Hare, follow signs in the airport directing you to the CTA Blue line (toward 'Forest Park'). From Midway, follow signs directing you to the CTA Orange line (toward 'Loop'). Both airports are located at the last stop of their respective CTA lines, so there is no danger of boarding a train going in the wrong direction.
---
Sightseeing
---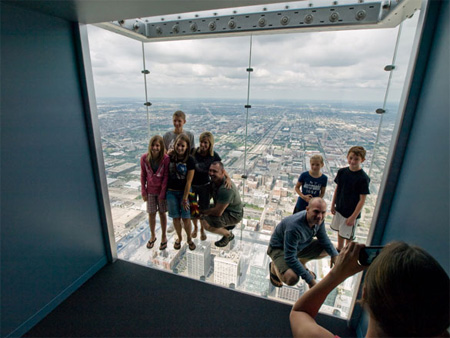 Sears Tower Skydeck (and other tall sights)
Sears Tower -- okay, technically Willis Tower -- was the tallest building in the world until 1998. For a view of Chicago, step into
Skydeck
-- an enclosed glass balcony on the outside of the 103rd floor of the Tower. For an view from more solid ground that also includes Navy Pier and the beach, skip the Sears Tower and head instead to the Skywalk at the
John Hancock Observatory
. Both views require tickets.
Architecture tours
The
Chicago Architecture Foundation
gives wonderful tours. Particularly recommended: the river boat tour aboard Chicago's First Lady. The walking tours are good as well, but be forewarned: they're two hours long. Even if you don't choose to do any tours, remember to look up every once in a while -- practically the whole city is a landmark.
Grant Park, etc
Visitors to Chicago are practically obligated to wander around
Grant Park
. Often referred to as "Chicago's Front Lawn", Grant Park spanns has several acres in downtown Chicago. Make sure to see: the giant reflective bean sculpture ("Cloud Gate"), the Faces video sculpture ("Crown Fountain"), the Lurie Garden, and the beautiful Buckingham Fountain. Just start at East Randolph St. and Michigan Avenue and wander south.
Lakefront Trail
To see both the beautiful skyline and an expansive Lake Michigan, walk the Lakefront Path.
See below.
---
Museums
---
Museum of Science and Industry (MSI)
The MSI is a fantastic museum with highly interactive exhibits. If you're visiting, make sure to check out the
Science Storms
exhibit (generate lighting with a Tesla coil! create a 40-foot tornado!) and the
YOU! The Experince
exhibit. There's also a space center (with a Curiosity Rover replicate), a U-505 German Sub exhibit, and a fully-functioning "green home" tour. Check out the exhibits
here
. Admission is $15 and the museum is open daily from 9:30am to 5:30pm.
Field Museum of Natural History
The
Field Museum
is one of the finest natural history museums in the country. If diverse taxidermy collections or human anthropology exhibits don't impress you, at least visit to see "Sue" -- the largest, most well preserve,d most complete Tyrannosaurus Rex fossil ever unearthed(see picture, left). The museum was the setting of the 90s horror film
The Relic
, but don't let that stop you from visiting. The Field Museum is open daily from 9:00am to 5:00pm and admission is $15.
Art Institute of Chicago
The
Art Institute of Chicago
is the second largest art museum in the US. It boasts one of the world's best collections of Impressionist and Post-Impressionist art, including more than 30 paintings by Monet. For a list of some of the more notable works, check
here
.The Museum is open daily from 10:30am to 5:00pm (to 8:00pm on Thursdays) and admission is $18.
Shedd Aquarium
The
Shedd Aquarium
is the most popular cultural attraction in Chicago. The Aquarium is home to 1500 species in 5,000,000 gallons of water and has exhibits on the Amazon, the Caribbean, the Pacific, jellyfish, just about everything. Basic tickets are $8, though you'll have to buy the $30 pass to get admission to the Jellies exhibit. The Acquarium is open 9am to 5pm on weekdays and 9am to 6pm on weekends.
Adler Planetarium
The
Adler Planetarium
was the first planetarium in America. The Planetarium has a number of
exhibitions
about our planet and galaxy, but make sure you check out one of their sky shows -- they have 3 high tech theaters to choose from. General admission is $12, shows cost an additional $6-10.
---
Entertainment and the Great Outdoors
---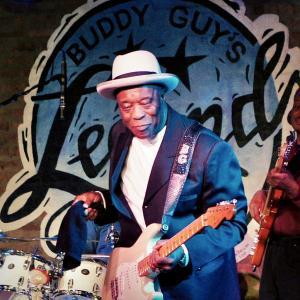 Blues Clubs
Chicago has a strong blues and jazz scene. You'll be arriving too late to see the Chicago Blues Festival, but the live music's still good at
Buddy Guy's Legends
or
Kingston Mines
.
Hyde Park Jazz Festival
The 6th Annual Jazz Festival in Hyde Park is happening the weekend of the 28th. It's a
free two-day jazz festival
featuring local, national, and international jazz artists (as well as an outdoor dance floor and artisan vendors). A vibrant, growing event that you definitely want to attend if conference schedule allows.
Bars
For cheap drinks and a friendly atmosphere,
Hungry Brain
in Roscoe Village is a favorite of many. For a great casual bar that has free video games, darts, and popcorn (and cheap drinks), check out
Galway Bay
in Lakeview. For a beautiful quiet view (but expensive drinks), stay downtown: go to
Signature Lounge
on the 96th floor of the John Hancock Building.
Chicago Symphonic Orchestra
Housed in a beautiful Orchestral Hall on Michigan Ave, the
Chicago Symphonic Orchestra
is a member of the "Big Five" -- the top five orchestras in the nation. Tickets can be expensive, though students can get day-of tickets for $15.
Lakefront Trail
The Lakefront Trail is a paved walking/cycling pathway along the coast of Lake Michigan. To access it from any point downtown, just walk east until you hit the coast. The lakefront is a beautiful place to walk or to bike. Just remember -- keep to the right lane. To rent bikes, check out
Bike and Roll
or
Bobby's Bike Hike
. Those who don't mind looking rather silly can take an (expensive)
Segway Tour
.
Kayak on the Chicago River
Go kayaking on the Chicago River! You
probably
won't grow extra limbs if you fall in, but don't tempt it. Avoid wearing Cotton, and wear shoes that can get wet. You can rent kayaks from
WaterRiders
or from
Urban Kayaks
.
---
Classic Chicago Food
---
Deep-dish Pizza
Chicago is the birthplace of deep-dish pizza. For a solid Chicago-style pizza, visit one of the
Giordano's
peppered throughout town. Want to eat where the locals eat? Go instead to
Lou Malnati's
on State Street, regarded as one of the best in town. Call and order 50 minutes before you go so your pizza will be ready for you when you arive.
Chicago-Style Hot Dog
For the uninformed, a Chicago-style hot dog is adorned with onions, sweet reslish, a pickle, tomato, sport peppers, and mustard. Not ketchup.
Never
ketchup. There are many places to find hot dogs in Chicago (Portillos, etc) but for the culinarily inclined, check out
Hot Doug's
. It's an extremely popular restaurant that serves gourmet (but only $2-5) hot dogs. It has a national, cult following and is always busy -- make sure to go during off hours. And get the duck fat fries!
---
Hidden Local Gems
---
Chicago Bagel Authority
Located on Chicago's North Side,
Chicago Bagel Authority
serves steamed bagel sandwiches with a dazzling array of fillings. Try The Good Rick -- bacon, gouda, dill havarti, muenster, mushrooms, tomato, avacado & parmesan peppercorn dressing on bialy. Or, well, really just try anything.
The Purple Pig
Alert: Downtown! No extra transit needed.
If you're looking for a conveniently located tasty restaurant downtown, you
must
go to
The Purple Pig
. It's small plate dining style, so be prepared to try a variety of things.
Myopic Books
Check out Chicago's coolest used bookstore.
Myopic
has a massive selection, is neatly organized, and smells like old books. It's open 9am-10pm every day, located right off the Damen stop on the CTA Blue Line.
Sweet Mandy B's
Sweet Mandy B's
in Lincoln Park serves delicious, delicious cupcakes. And other things. But mostly cupcakes. Try the cupcakes. The Red Velvet sell out before 5pm, so get there earlier in the day.