Location information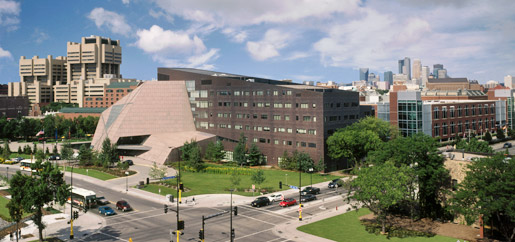 Venue
ISSTA 2012 will be held in the McNamara Alumni Center, located on the East Bank of the University of Minnesota's Minneapolis campus. Be aware that there is construction going on in this area, with a new light rail going through campus that has permanently closed part of Washington Avenue to automobiles. The directions on both the alumni center's and the hotel's pages have been updated to reflect this.
Visa Support
Visa support letters should be requested by emailing supportletters@acm.org. Please include:
Your name as it appears on your passport
Current postal mailing address
The name of the conference you wish to attend
Your registration confirmation number
If you have any papers accepted for the conference, please provide the title and indicate whether you are the 'sole author' or a 'co- author'
More information is available on
the ACM's site
.
Lodging
ISSTA 2012 has a block of rooms at the University Hotel, across the street from the McNamara Alumni Center. Rooms can be reserved in the ISSTA block by either:
Calling either 800-822-6757 or 612-379-8888 and asking for the ISSTA 2012 block, or
Using group code 071412ISST when booking online.
Hotel registration for the ISSTA block ends June 24th.
The hotel has driving directions and parking information available. Particularly, the PDF on that page has useful directions for avoiding the portion of Washington Avenue that has been closed.
Public transportation from MSP Airport to the hotel is available via light rail and bus. Take the light rail toward downtown, and get off at Downtown East/Metrodome Station. Right next to the station, on 4th St, your light rail ticket can be used to transfer to either the route 16 or route 50 bus, towards the University of Minnesota. Get off next to TCF Bank Stadium, at University Ave and Ontario St SE, and head southeast past McNamara Alumni Center. For more information on Metro Transit, see below.
Other nearby hotels:
Find a Roommate
If you are looking for someone to share a room with, contact Anitha Murugesan with your:
Name
Email address
Gender
Planned arrival
Planned departure
Any special requests
Support
Travel
Minneapolis/St Paul has Metro Transit, which provides a light rail line and buses going just about everywhere in the Twin Cities. The light rail stops at the Mall of America, both terminals of Minneapolis - St Paul International Airport, and downtown Minneapolis. Bus route 16 and route 50 make frequent trips between campus and downtown, and have stops very close to the hotel and the alumni center. Google Maps and the iOS Maps app can both be set to use public transit to give route directions. Metro Transit has their own trip planner as well, although it tends to demand very specific locations.
Note: The downtown portion of the light rail will be under maintenance starting on Friday, July 20th at 6:30 PM, the last day of the conference. Service will still be available, but conference attendees heading for the airport will need to follow the posted signs to get on the route 55 bus, which will be covering for the closed light rail section.
Things to do
Nearby restaurants
The Loring Pasta Bar in Dinkytown, just north of campus, is a popular destination with a unique atmosphere. Also in Dinkytown is Annie's Parlour for burgers and malts, Pagoda for Asian food, and the tiny hole-in-the-wall Al's Breakfast.
Stub and Herbs and Sally's Saloon are two good bar/grills a few blocks away from the hotel.
Further away, some interesting places include Restaurant Alma, The Happy Gnome, Zelo, and many, many others.
Plenty of chain restaurants within walking distance: Applebee's and Starbucks (just outside the hotel), Chipotle, Bruegger's, Caribou Coffee, Raising Cane's Chicken Fingers, Buffalo Wild Wings, Dairy Queen, Erbert and Gerbert's, McDonald's, Potbelly Sandwich Shop, Arby's...
Attractions in Minneapolis